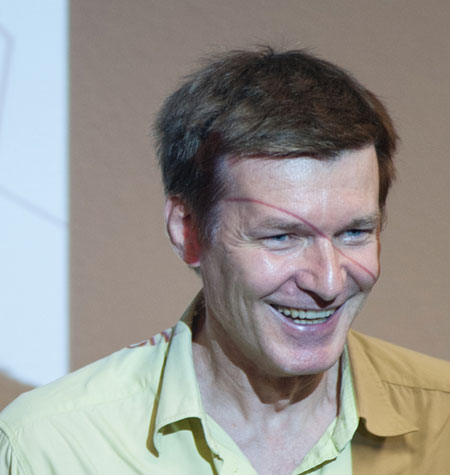 The distorted space-time continuum between feature film and animation
PRESENTATION: Tuesday, July 2. 13:00 @ Q21 MuseumsQuartier / Raum D

Today's contemporary filmmaking is full of features containing reflections about the nature of time and space. Non-linear, quasi timeless conditions are staged and mostly transported by science fiction scripts, using special effects and animation for visualisation. Also historic examples show a striking vicinity of spacetime and animation.
Classic animation uses still pictures that individually do not imply a lapse of time. Realising the differences between the single frames the viewer imagines movement in a system of continuous illusion. Without this unconscious process of imagination the construction of movement, of time and space would not take place.
Various examples (Alice in Wonderland/Disney/Svankmajer, Interstellar/Christopher Nolan, Lucy/Luc Besson, Dumb Hounded/Tex Avery, Pepper Heart/PES etc.) accompany the talk towards a daring thesis: What if the importance of unconscious imagination is also applicable to everyday reality?
An universally expanded understanding of animation provided, spacetime might turn out to be unconsciously constructed in form of a life-spending animation process to transform our existence into a linear system.
Biography
Studied Experimental Design/Animation with Maria Lassnig at the University of Applied Arts Vienna, graduation in 1992.
Short animations; various commercials for TV and cinema, scriptwriting; Illustrations and comicstrips für international magazines and advertising; Since 2004: President of ASIFA Austria (Association Internationale du Film d'Animation):
ASIFA Treasurer and member of the ASIFA Executive Board;
Curator of Asifakeil, an animation-based art showroom at the Museumsquartier/Vienna;
Teaches animation at Webster Vienna Private University and Webster University St. Louis/USA.