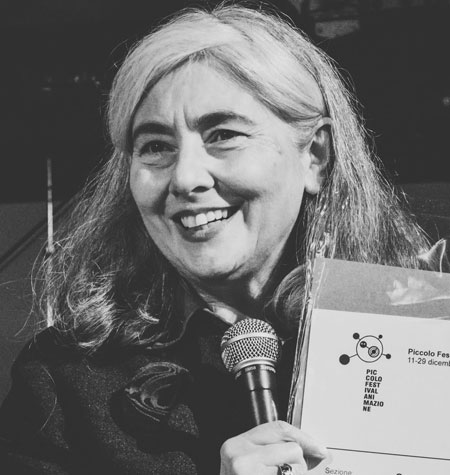 Tesla Project
PRESENTATION: 
Thursday, July 4. 12:30 @ Filmhaus Kino
Paola Bristot presents the production of Tesla Project, the Animation live, made thanks the collaboration between: Academy of Fine Arts of Venice, Faculty of Applied Arts of Belgrade, Conservatory "Giuseppe Tartini" of Trieste, with the coordination of the teaching staff: Prof. Andrea Amendola, Prof. Paola Bristot, Prof. Rastko Ćirić, Prof. Igor Imhoff, Assistant Iva Ćirić.
The idea of the Animation is based following these themes: – Birth of Tesla; – The great inventions; – Conflict with Edison; – Eccentric personality; – Life in constant balance between science and magic; – Decline, loneliness and inexorable end.
For the project participated the team of the students from the Academy of Venice and Faculty of Applied Arts of Belgrade: Aleksandra Blagojević, Ludovico Cassandro, Irene Catozzi, Tiziana De Stefano, Nataša Glišović, Kari Huang, Katarina Milin, Jana Popović, Tommaso Pradetto, Luca Resto, Ilenia Savegnago, Ksenija Stojanović, Miljana Tešović, Jovan Večerinović, Dana Vukajlović, Stefano Zampieri with the supervision of Prof. Igor Imhoff.
The Music of the Performance was played by Dragana Gajic, student of the Conservatory of Trieste.
The project, realized in April 2019, was possible with the collaboration of Istituto Italiano di Cultura of Belgrade, La Fabbrica del Vedere of Venice, Associazione Viva Comix and Piccolo Festival Animazione and with the contribution of
Law 212/2012.
Biography
Paola Bristot, graduated in Discipline Arti Musica Spettacolo, in University of Bologna (1985) and specialized in Contemporary History Art in University of Bologna (1991). She is professor of History of Art at the Academy in Venezia. Like president of the Viva Comix association organizes many exhibitions concerning comics, illustration, animation and visual arts. She is the Artistic Director of the Piccolo Festival Animazione (12thedition) in Trieste, Udine, Pordenone, Gorizia and Venice. She curated with Andrea Martignoni the 5th DVD "Animazioni"(2010-17, Viva Comix, Ottomani), anthologies of contemporary Italian short film. Like art director produced the experimental film "Re-cycling" (Arte Video, Viva Comix 2014).